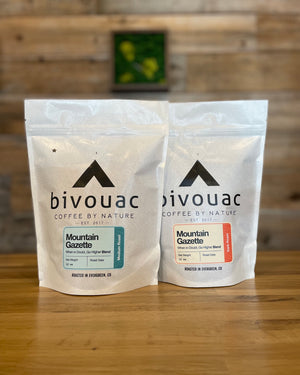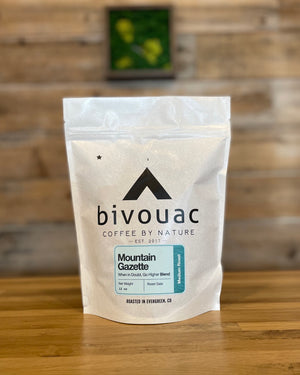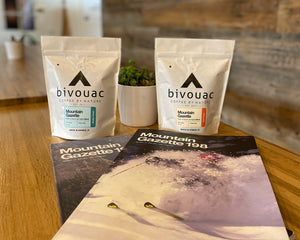 Mountain Gazette is more than just a magazine, it is a window into the soul of mountain culture. Each 11x17 inch large format issue is brimming with stories, photographs and artwork that capture the heartbeat of the mountains and the people who call them home. From the rugged peaks of the Rockies to the emerging outdoor culture of cities, Mountain Gazette covers stories with a depth unfounded anywhere. To fuel our adventurous lifestyle, we rely on the best coffee around.
Bivouac Coffee seeks to decrease the environmental impact of global coffee production by exclusively sourcing and roasting 'natural process' coffees from adventurous origins around the world. Bivouac inspires their customers to live an outdoor-focused lifestyle, while being conscious of their overall impact - which starts with their cup of coffee in the morning. As a company based in a Colorado mountain town, the Bivouac team gets out often to explore their local backyard as well as the many beautiful areas across North America.
Together, we want you to get out there and find your adventure. These delicious, hand-crafted blends will help you take that first step, as the trails are awaiting…
Also - check out this sweet mug we designed together! 
Cheers, friends - we hope you enjoy these special blends:
Our medium roast is toasty and sweet to fuel a winter dawn patrol, or the earliest of alpine starts. This perfectly balanced blend combines South American and East African varieties for a smooth, even finish perfect for everyday drinking.

Or choose an artfully crafted dark roast blend. With a smooth, dark base of South American beans, we precisely mix in a fine ratio of East African flavors to add complexity. 100% natural beans are roasted just dark enough to be rich in texture, while still preserving the unique flavors from the coffee's origin.