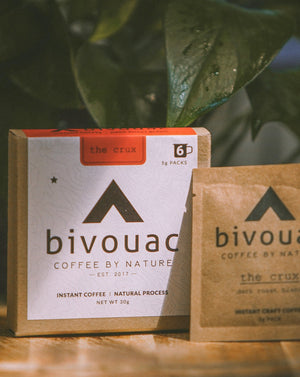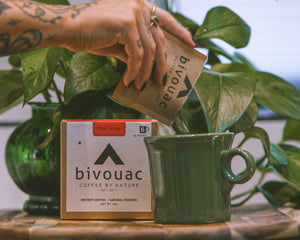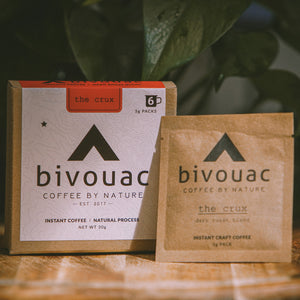 INTRODUCING OUR BESTSELLING DARK ROAST BLEND, "THE CRUX" – NOW AVAILABLE AS AN INSTANT COFFEE.
We can't wait to have you try it and share your feedback with us! Tag us on social (@bivouac.coffee) and tell us where do you use your Bivouac Instant?

Over the years a lot of you have asked why we haven't offered our coffee in an instant version.
Our answer? We never wanted to compromise the outstanding quality that our naturally processed coffees offer. However… We were always secretly on the hunt for the opportunity to create a truly high-quality natural coffee in an instant format.

Playing in the outdoors is core to what we do here at Bivouac and we know that sometimes your backcountry expeditions ask for a quick, simple and lightweight solution. Trust us, we've been there!

Inspired to address this need, we searched for the right partner in the craft of creating quality instant coffee.

After months of testing and experimenting with many of our blends, we were blown away with the quality. Needless to say, we are beyond thrilled that this is now available for all of you to enjoy!

Sustainably roasted in Evergreen. Enjoy at home, on the go, or in the backcountry.

---
The Crux is an artfully crafted dark roast blend. With a smooth, dark base of South American beans, we precisely mix in a fine ratio of East African flavors to add complexity. 100% natural beans are roasted just dark enough to be rich in texture, while still preserving the unique flavors from the coffee's origin. 
---
What our customers are saying about our Craft Instant Coffee:
"Adored the instant coffee. It made my morning and my tent mate refused to drink her own coffee." - Soraya
"I really enjoyed it! Love the packaging too." - Emily
"Loved it! I want to grab more." - Kathleen